Courier and Messenger Service from Nonstop Printing
We offer messenger service for local deliveries with a trusted partner. They're a small but extremely reliable team that we count on. Since it's a small team here's what you can expect:

same day delivery cut-off time is 12pm. That means we need to complete a project the day before to ensure that your project arrives on time.

any delivieres after 12pm are not guaranteed unless we confirm with our messenger service that same day.

Rough pricing

from Nonstop to Downtown LA: $35
from Nonstop to West Hollywood: $45
from Nonstop to Pasadena: $45
from Nonstop to the intersection of 405 and 101: $50
from Nonstop to LAX: $85


We do not offer printing+delivery with same-day service. Depending on the production schedule, we may be able to accommodate same-day printing, but you would need to schedule your own pick-up.
Try using Lyft for pick-ups!


We don't use Lyft for delivering projects since we can't guarantee the deliveries, but many of our clients use Lyft to pick up their own projects at their own risk.
If you have a rush project printed and delivered the same day, we recommend placing the order with us for pick-up and then using a service like Lyft. If using lyft, make sure to:


set your pick-up marker in the exact location shown below and leave a message for the driver saying that they'll be picking up boxes.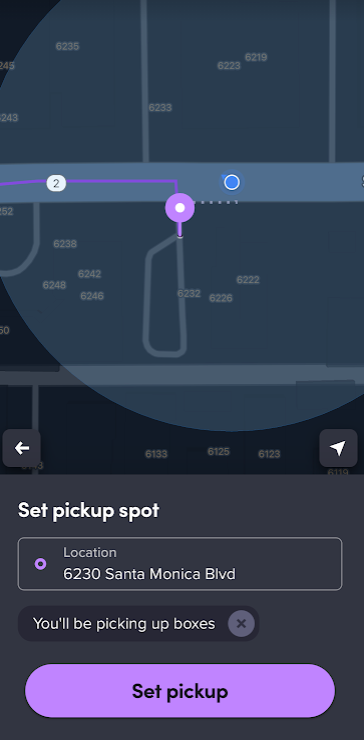 Related Articles

Schedule a Visit to Nonstop Printing

Thanks so much for learning more about us! It's best to set an appointment so that we can be a bit more prepared for your visit. You may drop in to get the conversation going about your project, but we don't have dedicated people to manage walk in ...

Can Nonstop Printing print Pantone Colors?

This is a huge topic! The quick answer is... it depends. But first lets talk about the basics. What is Pantone and why use it? It's actually a company. and it's best known for its Pantone Matching System (PMS), a proprietarycolor space used in a ...

Recommended Vendors for Products that Nonstop Printing Does Not Offer

Oh no! It looks like you requested a service that we don't provide (Promotional products/quick copy services). It looks like we may not be the best fit for your project but that's no problem! Here's a list of vendors that we like to recommend ...

CMYK Printing Challenges with Potential Solutions

This guide will teach you the very basics of spot colors. This includes: what is a spot color vs process color why we use spot colors how to check if spot colors are correctly assigned how to make a spot color from scratch What are process colors? In ...